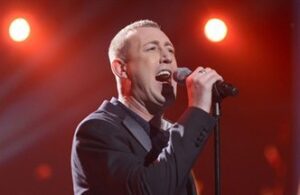 Liverpudlian singer Christopher Maloney is through to the quarter-finals of X Factor after a shocking sing-off saw one of the most popular acts leave the competition.
Saturday night's theme of 'Guilty Pleasures' inspired Maloney to sing Bonnie Tyler's 'Total Eclipse of the Heart' and it was enough to put him in the final five.
Despite being branded as 'cheesy' and a 'karaoke king' by the judges in previous weeks, they were all in agreement that he gave an impressive vocal performance.
Louis Walsh said: "Vocally, I cannot fault you; you hit all the notes. And you do those power ballads really well. It's week seven and people are still voting for you, so you must be doing something right. I'm not sure what it is but I think you are doing something right!"
Tulisa added: "For the genre that you do, you are consistent. Your vocals are always amazing. So tonight, I decided to admit defeat, sit back and enjoy your performance and I think you sounded really good, so well done."
Maloney's mentor, Gary Barlow, echoed their sentiments but also seemed to hit back at media claims that the singer has been behaving like 'diva' behind the scenes, as he said: "Well done Christopher. Nice comments. You've sung really well tonight.  And I need to tell everyone what a fantastic guy you are to deal with. You're always a pleasure, so well done. I thought it was a brilliant performance."
The Kirkdale singer was the last act to be put through in the results show, which led to what Louis Walsh said was the most controversial sing-off in the entire nine series he's been on X Factor, with two of the most popular acts up against each other.
The judges were tied and it went to deadlock on the public vote, where Tulisa's only remaining act – and one of the favourites – Ella Henderson was sent home, putting James Arthur securely through to the next stage of the competition.
After the show, Christopher tweeted: "Ello guys, WE DID IT! X factor Quarter finals here we come. I love u all so much. Ur the most loyal, amazing supporters and friends ever xx"