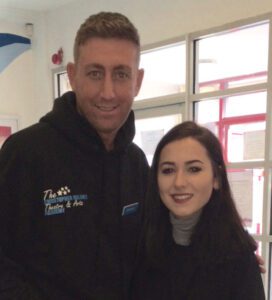 Former X Factor star Chris Maloney has switched his talents from singing to acting and is looking forward to acting the bad guy in pantomime this Easter.
Maloney will star in a production of Peter Pan at Knowsley Leisure and Culture Park and says it is a challenge he is embracing. He told JMU Journalism: "This Easter I'm playing Captain Hook and it's the first time I'll be playing a villain. I thought it would be something different to get my teeth into.
"When I sing a song, you've got to give it emotion, and it's weird because it's [acting] the same thing for me. Personally, I get that emotionally involved in the song I'm almost acting anyway."
He added: "I'm looking forward to performing in Liverpool because Knowsley was great the last time I performed there. Great venue and great people."
Known for nerves sometimes getting the better of him during performances, the ex-Liverpool Care Homes call centre worker said: "After the X-Factor arena show, performing in front of 20,000 people a night, I've gotten over it."
Last week marked three years since the Liverpool-born singer auditioned for X-Factor and since being on the show, he said his life has been transformed.
Maloney, 37, said that the show has given him the chance to achieve things that before were beyond his wildest dreams.
He told JMU Journalism: "Being on the show has given me the opportunity to do what I've always wanted to do. It's definitely changed my life."
The talent show finalist has since taken part in a UK arena tour, opened his own academy of performing arts which is nearly a year old, and has performed in pantomimes for the last three years.
Peter Pan the pantomime will also see performances from Emmerdale's Kurtis Stacey's and Britain's Got Talent finalist Stephen Hall. As well as two shows in Knowsley on April 17 and 18, the panto tour will visit Peterborough, Rhyl and Blackpool Central Pier throughout April and May.