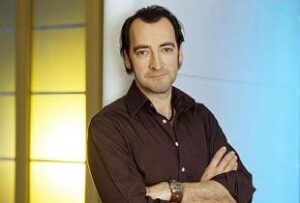 Comedian and actor Alistair MacGowan starred in a new play written and produced by the staff and students of Liverpool John Moores University.
The stage play 'Them's the Break's' tells the story of former rugby player Philip Bragg and follows his struggle after he was injured, leaving him paralysed in all four limbs. Philip was in attendance on the night.
Playwright and LJMU lecturer Andrew Sherlock told JMU Journalism: "The play was inspired partly by my own experiences growing up as a carer for my grandad who was paralysed from the waist down after falling down a factory chimney stack but mainly inspired after meeting my next-door-neighbour Philip who broke his neck in a scrum during a charity rugby match.
"It turned out that he was treated by the same inspirational doctor who looked after my grandad and coincidentally we also share the same birthday."
Research was carried out with help from the North West Spinal Unit and Alistair read the part of Dr Krishnan, the spinal specialist who helped to save Philip's life.
Andrew, who was responsible for casting the role, told JMU Journalism: "I was having difficulty casting the role of Dr Krishnan and in finding an Asian actor based in the Liverpool area with the kind of charisma and stature needed for the role.  Then I remembered my old friend Alistair. I sent him the script which he really liked and he agreed immediately to come to JMU and do the reading, squeezing it in before he starts his latest national tour this year."
The play was performed at the Joe H Makin Drama Centre on Monday 18th March and Alistair was joined on stage by LJMU Drama staff, professional graduates and undergraduate students who all attended a Q&A session with the audience.