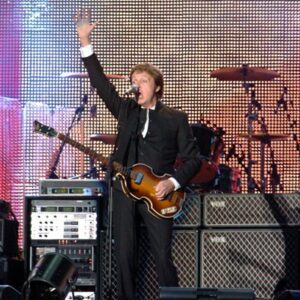 Sir Paul McCartney's return to Liverpool sold out in lightning-quick time after fans queued overnight outside the Echo Arena for tickets.
The Beatles legend is set to perform in his hometown on 20th December, but unprecedented demand left thousands of fans disappointed as tickets sold out within two hours.
Fans began to gather outside the Echo Arena box office from as early as Wednesday afternoon, with tickets due to go on sale at 9am the next day. Around 300 people, many with tents, braved the winds off banks of the River Mersey to get their hands on tickets, which were limited to four per person.
Spirits were high throughout the night as a party atmosphere engulfed the hopefuls, with many playing Beatles hits on stereos and singing joyfully into the early hours.
But around 50 of the legend's followers were left devastated as tickets ran out towards the end of the queue.
Jane Mowsley, 56, from Kirkby, was one of the first to arrive at the box office at around 4pm on Wednesday afternoon and told JMU Journalism how excited she was to be attending the Christmas gig, she said: "As soon as the concerts were announced I wanted to get down here.
"I thought I might miss out but luckily enough I was one of the first here and now I am delighted to be seeing Sir Paul rock the city again."
McCartney, who recently married for the third time, to American Nancy Shelvey, will travel to 19 different venues across three continents on his 'On the Run' tour. His only other UK tour dates see him play at London's O2 Arena and the MEN Arena in Manchester.
But for many of his devoted fans, his homecoming, which will be the final concert of his tour, is the only place to see the former Beatle perform.
Londoner George Comer, 48, unfortunately missed out despite arriving at the Echo Arena in the early hours of Thursday morning having travelled to the city from the capital to queue for tickets. He said: "I can't believe I have missed out. I've travelled all over the world to see Macca so a couple of hundred miles travel up here doesn't bother me, but to be told it was sold out is devastating."
The venue's official website saw over one million hits on Thursday morning, whilst the box office itself received more than 100,00 phone calls.
Tickets for the sold out event were fetching up to £1,800 on websites just hours after being released. Staff at the Echo Arena have warned fans purchasing tickets from unofficial sellers to be careful due to many touts taking advantage of the demand by selling fakes.
Sir Paul last played Liverpool in an intimate Christmas gig at the O2 Academy in 2010, and previously performed to a sell-out crowd at Anfield during the European Capital of Culture celebrations in 2008.
[nggallery id=20]