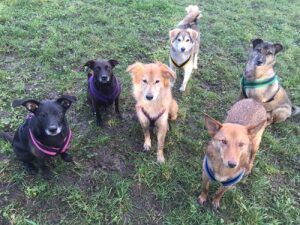 A Merseyside woman just does not know when to stop when it comes to spoiling dogs and her business catering for their tastes has proved a recipe for success.
Rebecca Hughes, 31, is the owner of the family-run bakery 'Doggy Love', and she travels nationwide to deliver homemade treats for canines from her website.
Explaining her achievements, Rebecca told JMU Journalism: "Dogs are more popular than ever in Britain and we are definitely a nation of dog lovers.
"People are treating their pets more as a member of their family so the demands for pet products as a whole have risen significantly. Also, people love treating their dogs to birthday cakes. The cakes have definitely become a lot more popular over the past couple of years."
Rebecca set up her dog bakery in 2012 after a work colleague bought her a cookbook for canines as a secret Santa gift.
The baker makes fresh treats using what she describes as high-quality ingredients and all profits made from selling the products are donated to around 15 charities every month, as well as sponsoring kennels both in the UK and abroad.
Some of the popular treats available are named after Rebecca's six dogs, all of whom are cross breed rescue pets, two of which she saved whilst volunteering at a shelter in Romania.
She told JMU Journalism: "Personally, I've always spoilt my dogs and I believe that treating them well keeps them obedient, loyal and happy."
There are 20 different treat flavours available, which she describes as "unique" and "interesting" and are based loosely on what humans enjoy eating. For example, lamb and mint, strawberry milkshake and even Pina Colada flavour.
As well as a dog's bakery, the 31-year-old also raises money from offering grooming services, dog-walking and sleepovers, which allows your pet to stay over in their home and be around other dogs.
Rebecca travels with her canine friends in a seven-seater carrier and has had an eight-foot wide bed made for her six dogs to sleep with her and her husband, Neil, every night. She also takes them on holiday every year and has even taken them travelling around Europe.
She said: "I think it's a case of them knowing what side their bread is buttered on. My dogs have more toys than probably most children do.
"They are truly members of the family and it's only right they are treated as such."
Facebook: Bec's Doggy Love
https://www.facebook.com/becsdoggylove/videos/1745475555725514/