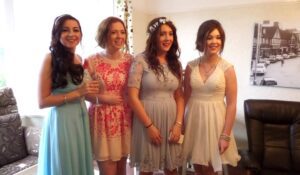 A third year John Moores student's charity project has been chosen as one of only 79 community schemes to receive funding from The Big Lottery Fund Wales.
Alice Outten set up her charity, 'Prom Ally', last year in order to help girls in their last year of school get a dress for their end of year prom.
With dresses sometimes costing hundreds of pounds, she wanted to help those that cannot afford to get the dress of their dreams brand new.
The idea was formed when watching a programme about poverty through a child's eyes. Seeing one of the children unable to attend their prom because of the lack of a dress made Alice think about how this is a very real problem and how no one should have to miss out on their end-of-year party.
She said: "Due to prom becoming a huge sensation in America it is becoming bigger and bigger each year in the UK too. With this growth, the price of dresses is also increasing drastically. I created Prom Ally in the hope of helping young girls have the perfect prom night no matter what."
Although based in Wales, Alice runs the charity from her student accommodation in Liverpool while juggling her law degree and her duties as station manager at Looprevil Radio.
The fund money will go towards buying more dresses, mannequins, cameras and lighting to photograph the dresses ready for advertisement. This will help Prom Ally's 'You Shall Go To The Ball' project, which is the charity's first campaign as prom season draws closer.
Alice told JMU Journalism: "This funding will make a big difference to Prom Ally and I'm overwhelmed by the support I've received from The Big Lottery Fund."
The first few dresses were bought by Alice from charity shops around Liverpool, but after appearing on ITV Wales to talk about the charity's mission, donations from across the country came flooding in.
Alice hopes that in the future the charity can expand into boys' formal wear too, but for the moment the focus is on catering to girls.
The special outfits can be sent all over the UK and Alice is hoping that as the project gains traction, more donations will be made and more young girls can hear about the offer so they don't have to miss out on the big night.