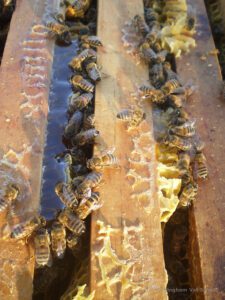 A beekeeping campaign has received major funding from the People's Postcode Lottery which will enable the project to expand across the region.
Blackburne House, Hope Street, have been producing honey from two bee hives on its roof for several years.
The award of almost £86,000 will mean that The Hope Street Honey Project will be able to continue looking after bees and producing honey to sell at the Blackburne House café.
The money will be used to offer expertise to encourage communities across Merseyside to try beekeeping.
Project manager Lesley Reith said: "We are working with the British Beekeepers' Association.
"From there we will give out flat-pack bee hives and beekeeping starter kits, along with education and training courses on beekeeping.
"Our aim is to encourage community groups and individuals to have hives in their communities and encourage bees to thrive across Merseyside."
Concerns have been raised about the apparent decline of the honey bee population in Britain, which is blamed on factors ranging from changing weather patterns to certain classes of pesticide.
Lesley said: "Bees are an important part of nature so we need to encourage their wellbeing and honey production."