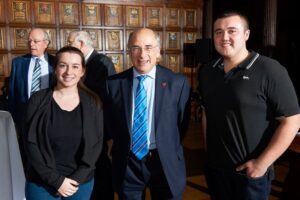 JMU Journalism students were among those welcomed to the second ever LJMU Chancellor Reception in London this week, with the author of the Leveson Report offering personal words of encouragement.
Held in the historic Middle Temple Hall in the heart of the capital's legal quarter, university Chancellor Sir Brian Leveson had invited a large delegation down from LJMU to visit the grand setting.
The Inn was the location of the first recorded performance of William Shakespeare's 'Twelfth Night' and to mark the occasion, LJMU Drama students paid a fitting homage by performing a potted 20-minute version, much to the delight of students and guests.
Speaking to JMU Journalism, Sir Brian had a message for those studying on our course, saying: "It is a vital public service that you perform, because you do hold the power to account. You tell the truth to power, provided that is what you do."
Sir Brian also advised those at LJMU to expand their geographical outlook as they seek opportunities to fulfil their future ambitions.
He told JMU Journalism: "It's a big world out there. I have spoken to a lot of students here who have never been to London.
"You don't need to keep your horizons to the North West of the country. You can look beyond to different parts of the country and of the world… to dream, to plan what you want to do, and then achieve it."
The future of LJMU is also on the mind of Chancellor Leveson. Speaking of plans to connect the 37 university buildings in order to create a village in the heart of the city centre, he told JMU Journalism: "It is important to become a much more coherent whole rather than a collection of pieces.
"Developing Copperas Hill and developing the university will cement that coherence."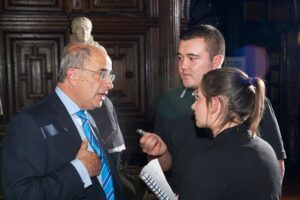 The site of the former Royal Mail Sorting Office on Copperas Hill near Lime Street Station is earmarked to become the 'beating heart' of a connected John Moores university village by 2018.
Vice-Chancellor Professor Nigel Weatherill told JMU Journalism events such as the Chancellor's Reception are an integral part of student life, to meet distinguished guests who can inspire them to success as they experience new surroundings.
He said: "What is the university education? What is the student experience? It tends to naturally be a focus on what happens in the classroom or laboratory.
"I believe, and we believe as a university, that it's far more than that. To be able to bring students from Liverpool to Middle Temple Hall is all part of what we try to achieve for our students: to dream, to plan and achieve."