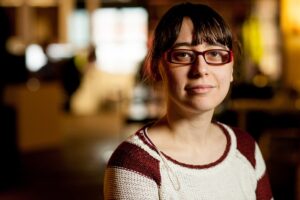 A local video games and app designer has been named as one of the top 100 women working in the games industry by MCV, an industry news website.
Claudia Doppioslash works for Starship, a local digital media and entertainment company, and was chosen by a panel of over 50 UK games industry executives.
The programmer managed to land herself amongst some of the high-flyers from the global games industry, including distinguished women from Sony Network Entertainment Europe, Warner Bros and Disney.
She told JMU Journalism: "I have loved working among the smart and creative people at Starship as well as being able to spend time on finding new ways to improve our latest platform CyberCook. It's an honour to be included amongst such distinguished names, I look forward to meeting them at the event."
Starship's PR Communications Manager, Vicky Roberts, told JMU Journalism:  "I think it's huge especially because Claudia is programmer and they are quite few and far between, so to have her work recognised in this way is obviously an accolade for her but also the whole studio.
"We are keen to stress that she has done a lot of work on CyberCook and has really improved the project. She is like a Trojan, she works really, really hard and that was recognised by the board who chose her to be a part of the awards."
The programmer was chosen for her notable work on the company's forthcoming CyberCook app, the world's first hyper-realistic cookery simulation, which is to be released later this month. Since joining Starship in 2013, Claudia's diverse skill-set has played an important role in making the virtual food look realistic.
Doppioslash also had this advice for aspiring video game programmers: "I wish I could say 'make small games in your spare time', which is a popular thing to say, but I personally don't. Just try out new programming languages and ponder on innovative ways to make game engines."
This year's awards will be held on February 19th in London at the Ham Yard Hotel, where MCV will award three of the Top 100 with honours for creativity, influence and impact in their careers.