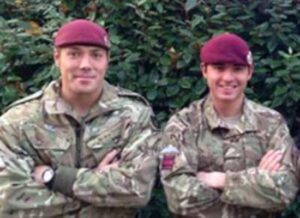 A local soldier is attempting a world-record fundraising event in Liverpool this weekend by rowing an exercise machine non-stop for 24 hours.
Drew Knowles, 26, from Formby and two friends will be attempting the 24-hour rowing challenge in the city centre on Saturday to raise money for Cancer Research UK and Dogs for the Disabled.
He told JMU Journalism: "These charities are personal to us. My younger sister Natalie is severely disabled and is desperate for a helping dog.
"We hope we can raise over £3,500 for these two great charities."
Knowles along with fellow serving soldier Isaac Longdon, who have completed three tours of Afghanistan in the 51 Parachute Squadron RE, are hoping to break a Guinness World Record as well.
He said: "I have spoken with the Guinness World Records with a view of setting a world record. This currently stands at 16.8 km per hour for 24 hours, set by a German team of 12 rowers. We aim to smash this with just us 2!"
Both participants have been affected by cancer and are hoping to raise as much money as they can. They initially were fundraising separately but they decided they wanted to do something together.
The three men have been training for the past three weeks to be prepared for this event and will begin their challenge at 9am on Saturday 3rd November.
As well as rowing constantly for 24 hours Drew Knowles has also completed other fundraising events in this year.
He said: "We have completed numerous charity events, this year alone I ran the London Marathon carrying a backpack weighing 40 lbs, 12 hour row and the Liverpool half marathon. "
The three will start their row in the main high street but they will plan to move in the evening to Concert Square where they will finish their challenge at 9am on Sunday.