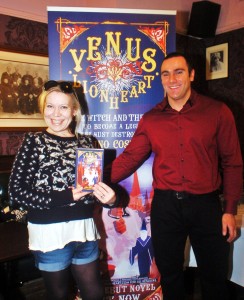 A former bouncer has turned his back on the club and bar doors and launched a new career by writing a fantasy children's novel.
Wirral author Dino Costi used to work as a doorman for some of the busiest bars and clubs around Liverpool city centre, including Modo, Kingdom, Ruby Sky and Baa Bar.
But little did he know that this line of work would lead to writing children's fantasy novel Venus Lionheart: The Witch And The God.
The bouncer-turned-author told JMU Journalism: "I have wanted to be a writer since I was a kid, but I had never got round to it because it seemed like such a big mountain to climb, I stopped my writing and went job-to-job, this led to my work as a doorman.
"Being in the lively environment, I felt a lot more motivated, so I came up with the idea for the novel when I was working on shifts, and would have ideas pop into my head, and eventually I started writing. It took me about four years to get it written, so it was a long process."
Marketed as "the female Harry Potter meets The Da Vinci Code", the novel follows the magical adventures of a 12-year-old girl who discovers she is a powerful witch with psychic powers that cause an uproar with the Catholic Church.
The 32-year-old author, said: "I liked children's novels when I was younger, but I started getting back into them as I grew older. I have a nephew who I started reading to and this rekindled my love for them.
"When I started working as a doorman there was a sense of excitement and energy, it gave me the enthusiasm to begin my writing. But I surprised myself by writing a children's novel, I was not expecting it, but once the ideas came I stuck with it".
Costi already has a few plans lined up the future, adding: "Nowadays once you have a good children's book, you can make a series, so I will definitely be working on the follow-up to Venus Lionheart: Witch And The God.
"I also know some people in the theatrical industry in Liverpool, so there is a good chance I will be working on a play which will be a completely different genre."