Researchers at LJMU have developed a major new global free expression index using innovative machine learning techniques.
The global ranking index, which tracks the state of free expression, is published today (Wednesday, January 25) by Index on Censorship.
The 'Index Index', a pilot project developed by LJMU and Index on Censorship, uses machine learning techniques to map the free expression landscape across the globe, giving a country-by-country view of the state of free expression across academic, digital and media/press freedoms.
The work was carried out by the School of Computer Science and Mathematics under the direction of Dr Ivan Olier-Caparroso and Dr Sandra Ortega-Martorell, and the participation of Ryan Bellfield, one of their PhD students. Dr Steve Harrison from the Screen School was instrumental in initiating LJMU's involvement in the project.
Ivan and Sandra, both Senior Lecturers in Data Science and co-leaders of the Machine Learning Research Group, said "We are extremely proud to have played a critical role in the development of Index Index using our machine learning algorithms.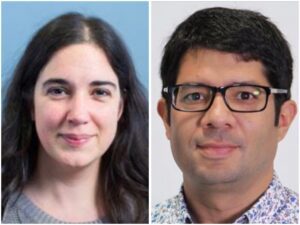 "Using innovative approaches to visualise the free expression global environment provides an opportunity to encourage governments across the globe, international organisations, and society more broadly to do more to defend against censorship."
Steve, a Senior Lecturer in the Journalism department, said: "Journalists need credible and authoritative sources of information to counter the glut of dis-information and downright untruths which we're being bombarded with these days. The Index Index is one such source, and LJMU is proud to have played our part in developing it.
"We hope it becomes a useful tool for journalists investigating censorship, as well as a learning resource for students. Journalism has been defined as providing information someone, somewhere wants suppressed – the Index Index goes some way to living up to that definition."
Ruth Anderson, Index on Censorship CEO, said: "The launch of the new 'Index Index' is a landmark moment in how we track freedom of expression in key areas across the world. Index on Censorship and the team at Liverpool John Moores University have developed a rankings system that provides a unique insight into the freedom of expression landscape in every country for which data is available.
"The findings of the pilot project are illuminating, surprising and concerning in equal measure. On a global scale, the 'Index Index' shines a light once again on those countries such as China, Russia, Saudi Arabia and United Arab Emirates with considerable influence on international bodies and mechanisms – but with no protections for freedom of expression across the digital, academic and media spheres."
Key findings of the Index Index
The Index Index sees the UK ranked as only "partially open" in every key area measured.
In the overall rankings, the UK fell below countries including Australia, Israel, Costa Rica, Chile, Jamaica and Japan. European neighbours such as Austria, Belgium, France, Germany and Denmark are also all ranked higher than the UK.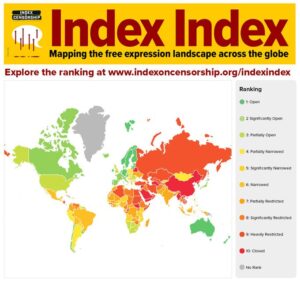 Key findings from the Index Index include:
· The countries with the highest rankings ("Open") are clustered around western Europe and Australasia – Australia, Austria, Belgium, Finland, Germany, Ireland, Latvia, Lithuania, Netherlands, New Zealand, Norway, Sweden and Switzerland.
· The UK and USA join countries such as Botswana, Czechia, Moldova, South Africa, Tunisia, Romania and Panama ranked as "Partially Open".
· The poorest performing countries across all metrics, ranked as "Closed", are Belarus, Burma/Myanmar, China, Cuba, Equatorial Guinea, Eritrea, Bahrain, Eswatini, Laos, Nicaragua, North Korea, Saudi Arabia, South Sudan, Syria, Turkmenistan, United Arab Emirates and Yemen.
· Countries such as China, Russia, Saudi Arabia and United Arab Emirates performed poorly in the Index Index but are embedded in key international mechanisms including G20 and the UN Security Council.
Nik Williams, Index on Censorship Policy and Campaigns Officer, said: "As the 'Index Index' grows and develops beyond this pilot year, it will not only map threats to free expression but also where we need to focus our efforts to ensure that academics, artists, writers, journalists, campaigners and civil society do not suffer in silence."