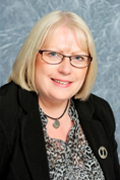 A new health service has made a former nurse and Liverpool John Moores University lecturer the voice of local people.
Judith Guthrie, senior lecturer at the Faculty of Health and Applied Social Sciences, has been appointed chair of the scheme, set up by Healthwatch Warrington.
The organisation will offer people who use health and social care services with a representative to help shape local health and social care provision and delivery.
This will include ensuring patients, service users and their families are at the heart of all future decision-making in the Warrington area.
Judith Guthrie, who has been a qualified nurse in Liverpool for over 30 years, said: "We will be looking to build on the good work undertaken over the years by staff and volunteers from the Local Involvement Network.
"And to engage with service users, patients and the public alike to build an organisation that ensure people in Warrington can contribute to the running of our services, and I'm looking forward to getting started."
The new service – which began on 1st April – aims to take local experiences of care and use them to influence national policy, covering 152 communities in England.
Professor Steven Broomhead, interim chief executive of Warrington Borough Council, told LJMU: "All partners remain committed to ensuring local people benefit from the best possible services provided in a way they need and deserve.
"We are delighted to welcome Judith to her new role and I look forward to working with her and the rest of the board to keep our residents informed, empowered and involved in this important agenda."