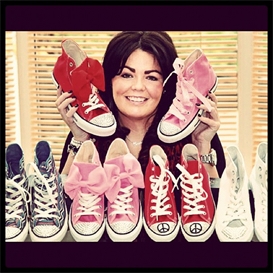 Two LJMU graduates have set up an online fashion marketplace, working with local businesses to provide a new kind of online shopping experience.
Julie Jones and Kate Morris set up the 'Fashion finds' website, which originally started as a street style page, and recently developed into a marketplace in June this year. The website is Liverpool based, but also works with shops from all over the Northwest.
The website attracts ten to fifteen thousand visitors a month, and showcases clothing from forty boutiques and shops, with over six-hundred products. Fashion Finds were also winners of the Juice FM style awards in 2010.
The two Liverpool-born women met at the university and both graduated with a Psychology degree at Liverpool John Moores. They are keen to use their LJMU connection to work with fashion students at the university.
Julie Jones said: "There seemed to be a lot of girls wearing a lot of items of clothing that weren't available on the high street. Some of the designers we had never heard of, so we decided to just bring all of the smaller labels to one place and make them more accessible.
"We have worked with students from John Moores in the past. We can offer fashion students from John Moores who are looking to get into the market a fifty percent subsidiary. It would only cost them fifty pounds a year and we can set the boutique up for them. It's a good opportunity for students looking to get into dressmaking.
"I did the enterprise business start-up course that John Moores put in place. I completed that after my degree. It gave me some really useful advice; it was a good starting point."
The two entrepreneurs hope to bring together all the local designers in Liverpool, and expand the business in the near future.