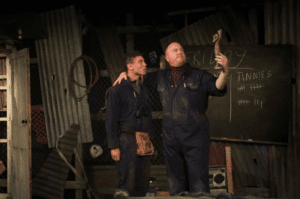 When he was a teenager Daniel Matthew could never have imagined that his experiences on a Leeds labouring yard, and the people around him, would one day form the inspiration for his debut play.
'Scrappers', which has opened at the Everyman Playhouse and was developed whilst Matthew attended the Young Everyman Writers project, tells the story of a small group of scrap merchants fighting to keep their beloved yard afloat.
Matthew told JMU Journalism: "My boss was quite a hard man around town and he helped me through that period of my life.
"I thought about this world, where people work in these yards and that whole lifestyle where everyone takes the mick out of each other and everyone enjoys each other's company.
"I thought wouldn't it be a shame if that way of life finished. These men are a symbol of the city and a symbol of change. It's about the idea that you can be really talented but you don't have to move away."
Matthew studied Drama at John Moores University and other local graduates have also contributed to the production, including set and costume designer Mari Lotherington. A winner of the Everyman and Playhouse Design Prize, Lotherington is a graduate of the Liverpool Institute of Performing Arts (LIPA).
Matthew cited support from his former lecturers who, he said, helped him to shape the play: "I did drama at university and realised that I wasn't actually very good at acting!
"But there was a module in playwriting which I took on and got good grades in. [My lecturer] Ros Merkin recommended the Young Writers programme."
Ged McKenna leads as scrapyard owner Ken, whose character was inspired partly by Matthew's old boss, with David Judge as Ryan, who Matthew loosely based upon himself, and John McGrellis as his sidekick Morse.
Molly Taylor stars as Jodie, a female character who Matthew says serves mainly as a symbol in the play. He describes the experience of watching his words come to life on stage as "surreal" and was full of praise for the player's "great" director Matthew Xia.
Scrappers runs until Saturday, 16th November.