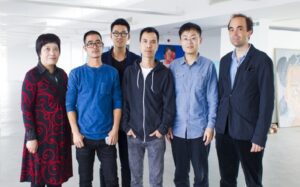 A new international art award has been launched by Liverpool John Moores University (LJMU) to recognise a flurry of emerging talent in contemporary art criticism.
The John Moores Critic Awards were launched last month in Liverpool and Shanghai to provide an international platform for budding critics in both countries to connect with their audiences and arts communities.
The award will run in tandem with the John Moores Painting Prize, one of the most revered events in the British art world and which forms part of this year's Liverpool Biennial at the Walker Art Gallery.
Chair of the organising committee for the Critic Awards Henry Hughes thinks there's a distinct lack of prizes for people who write about art and hopes the awards will encourage emerging talent.
He told JMU Journalism: "There are very many prizes for artists and a few for museums people and curators, but individuals who write about art almost always get left out.
"Something needed to be done to stimulate direct and informed engagement with the individual work of art or artistic production."
Entrants in the UK have to provide critical analysis on work shortlisted for the John Moores Painting Prize.
A widely respected panel of judges including Marjorie Allthorpe-Guyton, the UK President of the International Association of Art Critics (AICA) and Yan Gong, Director of Art World Magazine in Shanghai, will select one winner from each country.
Professor Juan Cruz, artist and Director of the LJMU School of Art and Design, believes that this new award will bring art criticism into discussion and unite two significant art schools from separate countries.
Juan told JMU Journalism: "One of the most important things surrounding art criticism is to establish a dialogue around peoples' work, so it seems very prudent to try and develop that level of criticism with our Chinese partners through this award.
"Equally in Liverpool, there was a sense that there was a lack in the culture of critical writing within the city around contemporary art, so because of these two things we thought it would be interesting to come up with an award that encourages critical analysis."
The UK award closes on Sunday 28 October and winners will be publicly announced at the Walker Art Gallery in Liverpool on Friday 16 November 2012.