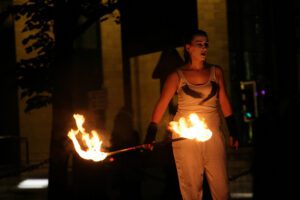 LightNight, Liverpool's one-night festival, celebrating its local arts and culture, is set to make its return to the city for a sixth consecutive year.
Starting on 15th May, LightNight continues its past tradition of a festival blanketed across the city. It will be the launch for the 2015 summer event 'One Magnificent City', which is commemorating 175 years since Liverpool's first transatlantic  voyage.
It will also be the launch night for the LOOK/15 Exchange, Liverpool International Photography Festival, for the third year running. The festival will feature workshops alongside previews and artist's talks.
The festival will include a variety of events, from street performances and light projections as well as tours and exhibitions, helping to showcase Liverpool in its best light.
To accommodate the night, venues such as St George's Hall, the Walker Art Gallery, and Liverpool Cathedral, among others, will be hosting events themselves. The city is giving the public the chance to explore Liverpool's galleries and museums which will open late for the Museums at Night event.
There will be over 100 organisations contributing in over 50 locations with special events taking place in Liverpool's cultural hubs, like FACT and The Bluecoat. Open Culture, the night's co-ordinator, describes it as "giving the local arts community a platform to create an eclectic programme of arts and culture activities concentrated into a single evening".
Previous years have seen a huge variety in exhibitions, from Rio Style Carnival dancing and joinable circus trapeze lessons, to fire dancing and afternoon tea with tea leaves reading included.
The Young Everyman's Playhouse Communications and Media Officer, Dominic Beaumont, told JMU Journalism: "Everyman & Playhouse will be participating this year as it is always an event we are keen to support but we are currently formulating what that will be and YEP's involvement will be"
LightNight will release its full schedule at the end of March.