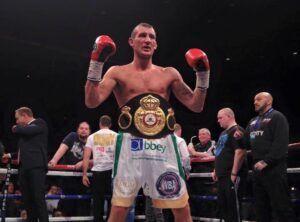 Derry Mathews capped off a memorable evening for Liverpool's boxers by beating Tony Luis to the interim WBA world lightweight belt at the Echo Arena, on a night that also saw Liam 'Beefy' Smith claim the WBO intercontinental welterweight title with victory over Argentine David Ezequiel.
There was very little to choose between the Mathews and Luis, but the Liverpudlian got a unanimous points decision with the two judges scoring the contest 114-112 and one having it at 115-112.
His Canadian opponent Luis was only drafted in at the very last minute, after Mathews twice saw Richar Abril pull out of a fight due to illness and be stripped of the belt, while just this week his replacement, Venezuelan Ismael Barroso, was forced to withdraw after failing to obtain a visa.
The opening exchanges were tight with both boxers trading blows, but it was Mathews who looked to be gaining a foothold in an impressive round three, landing a great right hook to the head of Luis, who fought back in a scrappy round four.
'Lightning Luis' lived up to his name by producing some quick combinations on the back foot in round five with 'Dirty Derry' landing some decent uppercuts, though he had to cover up waiting for the bell in round six after a good left from Luis.
A keenly -contested round seven was followed by a point deduction for both fighters in round eight, with 31-year-old Mathews landing a low blow and the Canadian illegally using his head. Mathews continued to take everything Luis threw at him in his stride in rounds nine and 10, but the Ontario native shaded the 11th with some good work to head and body as he lay against the ropes.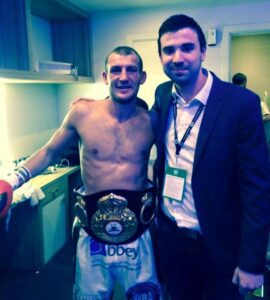 The British champion looked the fitter fighter in the penultimate round, landing the cleaner shots to gain the advantage over his opponent, who experienced a 12th round for the first time in his 19-2 career.
Speaking after the fight, new World Champion Mathews told JMU Journalism: "He's a world class fighter and a tough customer; I've just been in the changing room to wish him well. I'm fighting world class people, my team stuck by me and said I'd win a world title and that's what I've done.
"I was getting up at 6 o'clock in the morning every day for 12 weeks to train. It's been hard and it's been a journey but now its about resting up and chilling with my little lad.
"I want to fight the best, I've been a great servant to the sport, its about earning a few quid now too, putting the little man through university, buy him a house.
"I feel I'm the real world champion. Abril pulled out the first time, and last week he pulled out again so he's a bottle job, I spent 12 weeks away from my kids and my wife to train to become world champion and I became that tonight."