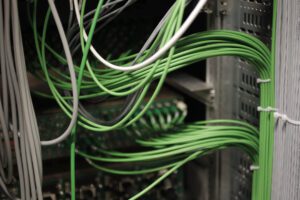 Liverpool is the second fastest growing digital hub in the UK, a new survey has revealed.
The Tech Nation report has compiled statistics for the UK's thriving digital economy and shows the number of new digital businesses in Liverpool has grown by 119% since 2010.
Only Bournemouth is ahead of Liverpool in top spot, having grown by 212%.
The study has led to predictions that digital job growth will outperform all other occupations by 2020, with 1.46 million people – 7.5% of the UK workforce – already employed in digital industries.
The survey is the country's first evaluation of the digital economy and has found that 74% of companies and 85% of workers are now located outside London.
Liverpool council's cabinet member for employment, councillor Nick Small, has praised the city's digital sector, saying:  "It's something we have been focusing on, I think the city has got a really strong sector and real opportunity to grow that and create more jobs and more business."
He went on to suggest that local creative and digital organisation, the Baltic Creative, is one of the key success stories on the city's digital scene.
Mark Lawler, Managing Director of the Baltic Creative, told JMU Journalism: "This study reaffirms our belief that the digital sector in Liverpool is going from strength to strength.
"It's an exciting time to be involved in the sector and, with its growth expected to continue over the next five years, Liverpool has a lot to be excited about. The expected new high value jobs that the sector will create will be vital for the city's growth and success."
The new developments from the study come after Prime Minister David Cameron highlighted the importance of the digital industry.
He said: "The digital economy has become an integral part of our country and the rapid growth of many digital businesses has confirmed Britain's position as a global hub of technology excellence."