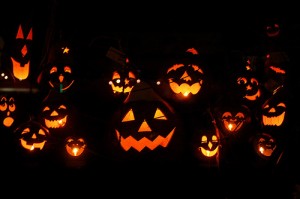 A host of frightening festivities and eerie events are coming to Liverpool to make this year's Halloween a spooktacular affair.
Shiverpool ghost tours will be continuing their creepy walks around the most haunted and scary places in the city to entrance audiences with a combination of history and horror.
They will also be running Scarewood Forest, a sinister fairytale wonderland in the Formby Pine woods. Running from 26th-31st October, scare fans will have to make their way through the haunted forest in an event run by over 50 actors.
Assistant Artistic Director of Shiverpool, Lucy Carew, told JMU Journalism: "It's been 100 years in the making and we've wanted to do it for a long time. Our Shiverpool tours are renowned for their quality and are highly thought of in the city and beyond, so we're really excited about this event. We're aware that Halloween is growing more popular year after year… it's huge and we love it."
International award-winning 'Scream Park' Farmaggedon, which opens every autumn, has sold out completely for the fourth year running. The event has become increasingly popular each year attracting hundreds of people to be willingly terrorised.
The city will be hosting some big Halloween-themed club nights including student hot spot The Krazy House with its annual costume competition on 27th October and Medication, the midweek student night, with its huge fancy dress party as Halloween falls on a Wednesday.
Camp and Furnace will be transformed into Vamp and Furnace hired out by Shiverpool and showing cult horror films whilst entertaining party goers with DJ sets and dancers. The vampire-themed party is aimed at students and discounts are available.
For something more family-friendly, Knowsley Safari Park will be having a night where you can meet bats and creepy crawlies on 27th October and Active Adventures in Otterspool will be holding a high rope adrenaline-fuelled activity called Ottersghoul on October 30th and 31st.
Traditional Mersey ferry rides will also be getting a makeover with Shiverpool's 'Shiver on the river' on 28th October.
People can expect to travel across the river listening to historic tales of horror from Liverpool and the Wirral. On the same night, Sefton Park will be hosting the annual Halloween Lantern Carnival run by the Liverpool Lantern Company in a free community event.
The Anglican Cathedral will be hosting a 'Night of the Living Dead' to engage with people's fear of death and connection with the spirit world. The night will take on a religious angle, and will offer an alternative to usual Halloween activities.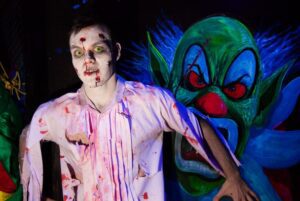 Canon Richard White will be leading the event at the Cathedral. He said: "Halloween is now the second biggest commercial event of the year.
"While lots of churches offer positive alternatives for children, teenagers and young adults can often see the church as irrelevant or condemning at this time of the year. It will be creative, fun and will have Christ at its centre."
Speaking about Halloween, Shiverpool's Lucy Carew said: "I think it's a fascinating concept; a gripping intellectual subject. People love to be frightened and scared, it's fun and they can be creative with costume and characters.
"It has dark and sinister undertones but still a lot of fun. I think people enjoy the macabre and the intrigue that the dark side brings."
Along with the extensive list of planned events, Liverpool residents will no doubt take part in more traditional activities like trick or treating, apple bobbing and carving jack 'o lanterns, whilst bringing some Scouse enthusiasm to one of the most popular holidays of the year.
However, the infamous 'Mischief Night' on October 30th may be something new – and not altogether welcome – for strangers to the city as some youngsters engage in pre-Halloween vandalism and more.