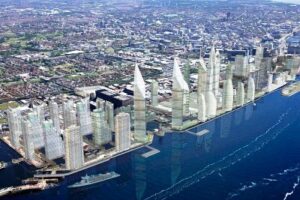 The city's economy has been given a major boost after Liverpool City Council voted unanimously in favour of the futuristic £5.5bn Liverpool Waters scheme put forward by Peel Holdings.
Up to 20,000 jobs could be created as part of the proposed development which features 9,000 apartments, hundreds of offices, hotels and bars, a new cruise terminal and the 55-storey Shanghai Tower, which will be the largest building in the UK outside London.
Due to the sheer size of the project, and in light of opposition from UNESCO representatives, who have raised concerns about the preservation of Liverpool's World Heritage Site status on the waterfront, it has now been referred to the government's Communities Secretary, Eric Pickles, for approval.
The developers, Peel Holdings, now face a three-month wait to see if the scheme is given the go-ahead at Westminster, or whether a public inquiry is required.
Liverpool City Council leader Joe Anderson expressed his delight at the decision to give the green light to the development after councillors voted 10-0 in favour of the scheme.
He said: "Today's decision to grant planning permission for Liverpool Waters is one of the most significant and far-reaching made in Liverpool's recent history. It is a vote of confidence in a new beginning of a great city.
"Liverpool has to grow and redevelop if we are to thrive and succeed in the future. We do not live in the past, we are not a museum. I care passionately about the future of Liverpool and the opportunities and life chances we give our children.
"Today's decision is for future generations. The new investment, businesses and employment opportunities Liverpool Waters will bring is the future for our city."
Peel director Lindsey Ashworth, said: "This is the end of the beginning of a very long journey and partnership with Liverpool. It's taken five years of hard work to get to this point… the scheme was very carefully discussed by members and, quite rightfully, the public had their say."
Liverpool's waterfront was granted World Heritage Site status by UNESCO in 2004, ranking it alongside landmarks such as the Taj Mahal, the ancient pyramids of Egypt, and Stonehenge.
Further to the north of the city, a second container terminal, called Liverpool 2, has also been announced which will be able to accommodate the biggest merchant shipping vessels in the world, capable of carrying up to 13,500 containers. It is expected to create up to 5,00 jobs although the project depends on a £35mn government grant to dredge the River Mersey.
Alan Maguire, a director at JMD Haulage and who formed part of Liverpool 2's steering group, explained the boosts this will provide are both economic, and environmental. He said: "The new terminal will enable Liverpool to compete with the deep sea ports of the south by attracting the world's larger vessels which cannot currently berth at Liverpool.
"A considerable amount of the containers currently landing at Southampton,Tilbury and Felixstowe are destined for the north and by bringing them into Liverpool 2 , it will not only massively reduce road miles and carbon footprint, but will also give a much needed boost to the North West's economy."