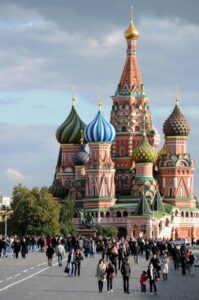 Liverpool Vision has signed a deal with Russia that will help develop the city's business links and prospects.
The agreement has been struck with a major Russian economic institution to help promote Liverpool's upcoming International Festival of Business (IFB 2014) throughout Russia.
The Memorandum of Understanding was signed by Ian McCarthy of Liverpool Vision and Alexander Bazhenov, acting CEO of the Federal Centre for Project Finance (FCPF), which is part of the Vnesheconombank Group.
Mr McCarthy told JMU Journalism: "This is an alliance that can boost trade relationships between Russia and Liverpool.
"It works on funding projects to promote regional and urban development and this organisation sees IFB 2014 is a perfect and timely opportunity to help further their own plans and they will push the importance of the festival across the country."
The deal is part of a British Trade Mission which aims to encourage small and medium sized businesses to export, and is headed by Business Secretary, Vince Cable.
Mr Cable has been in Russia striving to help UK-based companies succeed in the global economy and assist overseas companies in bringing their high quality investment to the UK.
Mr McCarthy added: "As Russia continues to modernise, underpinned by a consumer appetite for quality goods and services, there are increasing opportunities for small medium sized businesses.
"The Memorandum of Understanding we have signed will help all businesses take advantage of this through the opportunities we are creating during IFB 2014."