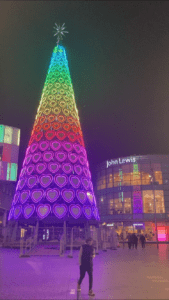 Liverpool's Christmas displays promise to provide some light at the end of a dark year.
Liverpool City Council has set out what will and won't be taking place this festive period under current government Covid-19 guidelines.
One major omission is the annual Christmas market at St George's Hall. What is usually a hub of excitement with beer tents and handmade decorations was cancelled due to coronavirus fears.
However, the city will still be hosting some iconic festive displays throughout December.
The famous LED heart-shaped Christmas tree on Paradise Street near Liverpool ONE is already stood in all its glory, with other trees being installed at Williamson Square, St Paul's Square and Church Street.
Trapeze Creative Ltd have provided the decorations for Liverpool ONE and areas around the city centre since 2014. Despite the obvious difficulties this Christmas, the company works all year on seasonal projects, refurbishing each of the existing display pieces while designing new ones, prototyping and manufacturing original pieces to add to the presentation and planning the installation work and logistical operation in advance of each season's activity at Liverpool One.
Creative director Ian Kerr, said: "The coronavirus pandemic has been a major challenge for us, and we have had to adapt our planning, training and on-site team management, to care for and protect our staff.
"But the environment is great. It's exciting and vibrant which provides a wonderful setting for our work, plus the clients are very professional, positive and open to new ideas and that makes for a perfect combination. As a team we also enjoy being in the city.
"We travel a lot and see many cities at Christmas, and there truly is nothing quite like Liverpool."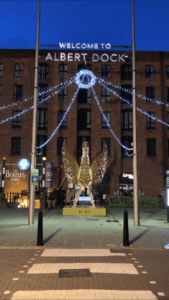 Elsewhere, the light tunnel which is prevalent on many an Instagram story is back again at Church Alley, however this year there is no music feeding from The Bluecoat.
Williamson Square along with its iconic tree will be home to ceilings of lights running down to Whitechapel, bringing the Christmas spirit over towards the ever-popular Mathew Street and Cavern Quarter, with a similar display at Bold Street, running from the bottom all the way up towards the bombed out church.
The Royal Albert Dock will look as gorgeous as ever with a series of stunning Christmas lights, including the dock's inner quay having already been wrapped in sparkling lights on each of the iconic red pillars surrounding the inner walls, and two large liver birds named Bertie and Bella.
And new to Liverpool for 2020 are a selection of lights to be installed along Hope Street, connecting both the Anglican and Metropolitan cathedrals, as well as including China Town for the first time.
View this post on Instagram