Plans for two film production studios are underway as Liverpool is set to become the 'Hollywood of the North'.
The plans for Littlewood Studios on Edge Lane will see the famous building redeveloped into a 275,000 sq ft complex. 
Capital and Centric are leading the £54m project, and have received £11m out of an expected  £17m package, from Liverpool City Council as part of the Government's Getting Building Fund.
The art deco building has stood empty since 2003. Initial plans to redevelop the site were announced back in 2018, just before a fire broke out causing significant damage. 
The plans are set to see the landmark transformed into a northern hotspot for the film and television industry, with Twickenham studios already agreeing to take 85,000 sq ft of the scheme.
Liverpool John Moores University has signed up to take 75,000 sq ft as an educational partner. The remaining space will include offices for companies in the film, tv, and digital sectors, and event space that will be open to the public in the evenings, as well as a café-bar and 150 seat screening room. 
The LJMU film and media campus will be named after the Littlewoods founder John Moores and the university has said that it will be investing more than £1m "in upfront costs".
A university spokesperson told JMU Journalism: "There is a huge demand for special and visual effects specialists, location managers, production managers, script editors, sound designers, and so on. This is why developments such as the Littlewoods Studios with industry and education working in partnership to respond to both the skills shortage areas and industry needs are essential."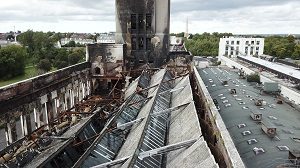 There are also plans to reach out to local schools through social impact developer CAPITAL&CENTRIC's award-winning 'Brainery' initiative.
Tony Schumacher, ex-police officer turned writer whose latest BBC tv show, The Responder, is currently being filmed in Liverpool, said: "With our production, we've tried to employ as many people as we can from Liverpool.
"Being working class I never dreamt that the occupation that I've got is something that I could do when I was 16.
"I think the most important thing those studios will do is they'll show people like me that you can do this for a living and I really hope it's not a missed opportunity by the city in that they don't give those opportunities to young people from places in Liverpool.
"Just get young working-class people in there and thinking 'I could do this, I could be a producer, a director of photography or I could be an actor.'"
Adjacent to the Littlewoods building, the construction of two 20,000 sq ft pop-up sound studios is underway, with Morgan Sindall building the site on behalf of Liverpool City Council. The site which is to be called the Depot is expected to be operational by the summer. 
Richard Potts, area director at Morgan Sindall, said: "These new film studios will form a vital part of driving forward the Liverpool City Region and wider Northern economy, and it's a privilege to be involved in such an important part of the city's future. We look forward to creating an environment that will be the perfect backdrop for filmmakers around the world to realise their visions.
"Liverpool is set to become the "Hollywood of the North" with the development of these new studios"
The 10 acres Littlewoods Studios is set to be up and running by 2023.