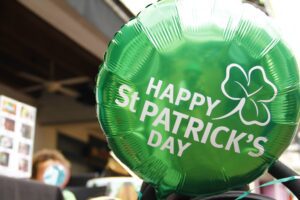 Liverpool will be awash with people dressed in green on Tuesday as the city aims to show its one of the best when it comes to celebrating St Patrick's Day.
Pubs and clubs across the city centre are set to be packed over the weekend and into Tuesday as locals and students join Irish ex-pats to raise a few glasses in memory of Ireland's Patron Saint.
On the afternoon of 17th March, the Liverpool Irish Flute Band will this year hold its traditional march.
Meeting at the top of Silvester Street, the parade will march down Vauxhall Road, and make its way through the traditional Liverpool Irish heartlands of Vauxhall and Holy Cross as it heads into the city centre.
One of the organisers of the parade, Ciarán Doolin of Cairde Na hEireann Liverpool (Liverpool Friends of Ireland) told JMU Journalism: "I'd advise people to get down for the parade as it's a celebration of Irish culture, history, and the contribution St. Patrick made to the history of Ireland.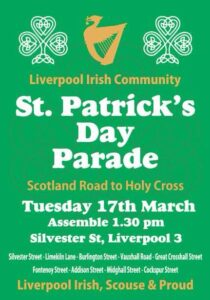 "There's going to be two bands on the parade: the cities own Banna Fluit Learpholl – Liverpool Flute Band – and the Cambria Band from Wales. So it should be a good day out for the family."
"The celebrations shouldn't all be about getting going out and getting drunk, we should rather think about why we're celebrating the day.
"We should think about the history and connection our city has with Ireland; whether that be thinking of the large influx of Irish people who came to the city escaping Famine or for economic reasons, or the Irish influence on the Scouse accent.
"After all celebrating our Irish heritage on St. Patrick's Day for a lot of Scousers is celebrating a part of us which makes our identity separate from the rest of the country."
The family-friendly parade will leave at 1:30pm on Tuesday. If you would like to join in, simply meet the Liverpool Irish Flute Band at Holy Cross Church on the day.