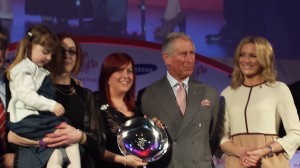 A Liverpool mum has been honoured with a Prince's Trust Award after setting up fitness classes for parents and young children.
Lucie Campbell, 34, picked up the Royal Bank of Scotland enterprise award for her parent and toddler classes 'Jumping Jacks ABC'.
Princes Charles presented her with the award at a ceremony last week, an occasion that Campbell told JMU Journalism "was one of the best moments of my life".
She set up the classes to get toddlers exercising with their parents.  After she gave birth to her first child, Campbell suffered from postnatal depression but following the doctor's advice she used exercise to help overcome it.
"Exercise really helped me with this and I wanted to help others in a similar situation," she explained.
After training to be a fitness instructor and sports leader, Campbell began running fitness classes for adults. When funding for the crèche for parents with pre-schoolers fell through, many couldn't continue attend classes due to childcare issues.
She explained: "I started trying to find ideas to combine an adult and child fitness-based class which diminished the need for childcare."
Lucie then received the funding she needed from the Prince's Trust to set up her business which combines exercise and entertainment for toddlers. She also said it helps the children build friendships as they prepare for school or nursery.
She added: "I love my job and cannot imagine doing anything else. It has taken a lot of time, effort, hard work and determination to make Jumping Jacks the success it is today."
Jumping Jacks ABC has now sold its first franchise, as well as having music on iTunes, and Campbell added: "It is amazing that other people believe in me and the business. We appreciate everything that the Prince's Trust has done for us."