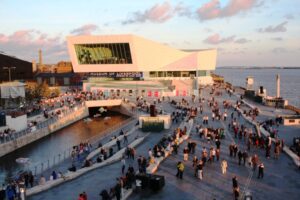 Liverpool received a rousing thumbs-up from visitors after the city's new museum was named the most popular outside London.
A report by the Association of Leading Visitor Attractions (AVLA), released this week, reveals visitor figures for Liverpool were some of the highest across the country.
The new Museum of Liverpool, which opened in July 2011, saw an increase of 53% of visitors, one of the largest in the UK. Outside of London, it was the most visited museum attraction in England last year, with more than one million visitors.
David Fleming, Director National Museums Liverpool, said: "We attract more people now than we did during Liverpool's year as European Capital of Culture five years ago and nearly five times as many as a decade ago.
"We are thrilled that the Museum of Liverpool is the country's most visited museum outside of London. We are equally thrilled that it has been awarded the Council of Europe Museum Prize for 2013, proving that the Museum's success has been noticed internationally."
The Walker Art Gallery has also seen a big rise in tourists, crediting their 40% increase in visitor numbers to Australian artist Rolf Harris for his exhibition Rolf Harris: Can you tell what it is yet? which ran from May through to August 2012.
There were also increases seen at the Tate Liverpool (6%) and The International Slavery Museum (9%).
The stellar year for Liverpool's attractions meant that 2012 was National Museums Liverpool's most successful year, with more than 3.3million visits overall.
Dr Fleming said the biggest challenge was keeping up this success after cuts in public spending – the National Museums Liverpool saw a budget cut of £3million a year – however, he believes the quality of the museums are helping them to remain successful.
He said: "Our eight museums and galleries are exciting and emotional places to visit – that's the secret of our success. We want our venues to inspire and educate, and also be fantastic for families. Across all our museums we like to try new things and reach new audiences."
Visitors to Liverpool explain the attraction. Peter Kemp, 67, West Derby said: "My favourite exhibition has to be the Overhead Railway. I'd like to see more about the Liverbirds but overall it's a great experience."
Ruth Cohen, 68, Port Sunlight said: "I live over the water but this is only the first time I've been here. I think it's wonderful to be able to look back at local history and find out interesting things I did not know."
Additional reporting by Joel Richards