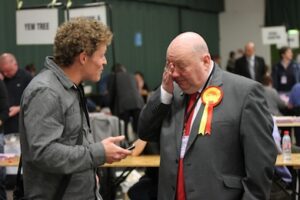 Labour's Joe Anderson capped an eventful mayoral campaign by overwhelmingly winning the backing of Liverpool's voters in the city's first mayoral election.
Independent Liam Fogarty came a distant second but it was reward nonetheless for his long-standing campaign to have a directly-elected mayor in the city.
That decision was taken in February after the Labour-led council voted to bypass a referendum on whether it should take place, a plebiscite which was defeated in other cities including Manchester and Nottingham.
Though some opposed the decision citing it as undemocratic, the three main parties and other fringe parties fielded candidates while there was also a colourful array of independents.
Before the race even got underway the celebrity hairdresser, Herbert Howe, jumped in and out of it. Exiting the contest soon after his official campaign launch, he said he was sick of the "viperous attitude of local politics". His promise to take no salary as mayor if elected was widely-praised.
That left 12 candidates who met the criteria to appear on the ballot. An all-male and all-white shortlist included: Anderson; Liberal Democrat councillor Richard Kemp; Green councillor John Coyne; Fogarty; Conservative Tony Caldeira; Liberal councillor Steve Radford; UKIP's Adam Heatherington; the Trade Unionist & Socialist Coalition's Tony Mulhearn; English Democrat Paul Rimmer; the BNP's Mike Whitby, the National Front's Peter Quiggins; and the Liverpool Independent Party's Jeff Berman.
One of the most contentious issues was the amount of money Liverpool had received in return for bypassing a referendum – £130m – a small amount of money compared to other cities in similar deals.
Anderson, who as Council Leader negotiated the deal, argued that those other cities covered a bigger area, so the deal was fair.
Throughout the campaign several candidates alleged that the council "censored" their campaigning material. Ged Fitzgerald, the Chief Executive of Liverpool City Council, argued that some words were removed in campaign leaflets because they were "irrelevant". But Democratic Audit, an international political research organisation, said it was 'undemocratic'.
The far-right candidates Michael Whitby (British National Party) and Peter Quiggins (National Front) were arrested not long before the campaign finished, the BNP representative on suspicion of electoral fraud and the National Front candidate for alleged public disorder outside a high-profile trial at Liverpool Crown Court.
Most of the mayoral debates were uneventful, but one was marked out in particular by the ejection of Jeff Berman after he heckled the organiser and Anderson. Berman was not invited to the debate at the Epstein Theatre, which was between six of the twelve candidates, and was ejected after he refused to sit down.
Then there was the debate that stood out for never taking place as attempts were made to have all 12 candidates share the spotlight. But after several changes of venue to meet high demand and an objection by the Liverpool Guild of Students, the event was cancelled because of safety concerns after far-right and anti-fascist campaigners said they would protest outside the University of Liverpool building.
But it was Anderson who always seemed on course to win in what has long been a Labour-dominated city, with five out of five of its MPs and two-thirds of the council belonging to the party. With 57% of the vote on a 32% turnout he was victorious.
Fogarty's second place finish was a personal success but for the Liberal Democrats, who controlled the city council between 1998 and 2010, there was disappointment as their candidate Richard Kemp came third, garnering only 6,238 votes.