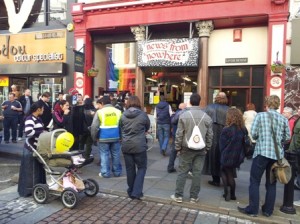 A demonstration against perceived corporate greed was held in Liverpool at the weekend as part of a global fight for change.
The protest, known as 'Occupy Liverpool' was just one of hundreds that were inspired by the 'Occupy Wall Street' movement. Social networking sites, such as Twitter and Facebook, have played a major part in spreading the movement worldwide.
People are taking part in the demonstrations to show their concern about what they see as the increases in global inequalities and their desire for a true democracy.  Around 200 people took part in Liverpool's peaceful protest on Saturday.
In Liverpool, people gathered outside News from Nowhere bookshop on Bold Street at noon and made their way up to Barclays Bank on Lord Street.  Some of the demonstrators managed to get inside the bank before security stopped the rest from entering. Those inside stood at the windows with banners showing messages such as "this is not our crisis" and "we are the 99%".
The majority of demonstrators occupied the street outside the bank where they shared with each other and the general public their own personal reasons for taking part.  There were also various chants going around the crowd, such as "no ifs, no buts, no public sector cuts" and "cut the bankers, not the workers".
JMU Journalism spoke to Barbara Cookson, a nurse with 30 years experience and UNISON rep at the Royal Liverpool Hospital.  She said: "People have been very friendly today and they've been asking lots of questions about what is going on."  She also expressed concern about the lack of coverage that Occupy Wall Street has received in the press.
The demonstrators left Lord Street at three o'clock following rumours that arrests were going to be made.   There has already been another meeting planned for 22nd October, where the demonstrators will meet at News from Nowhere again.
Other Occupy demonstrations across the world are still ongoing, as thousands of people in London are still demonstrating for a third day.
United for Global Change, the website for the movement organizing the worldwide protests, estimated that 951 cities across 82 countries would unite on 15th October for global change.