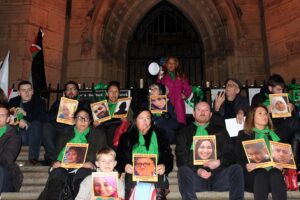 Vigils are still being held in Liverpool to show solidarity with the victims of the Grenfell Tower fire disaster.
An array of campaigners sat in solidarity on the steps of St Luke's Church on Berry Street on Wednesday night to show their support the Justice4Grenfell movement.
The Grenfell Tower blaze in London in June 2017, which killed 72 people and devastated the lives of hundreds of survivors, was the worst UK residential fire since World War II.
The monthly vigils are organised by Mayoral Lead for Equality and Race Equality, Councillor Anna Rothery, and Dan Lewis, Communication Workers Union, North West Chair.
The pair invite various organisations, councillors and charities to attend as well as anyone who wants to be involved.
Cllr Rothery told JMU Journalism why she felt Liverpool has a role to play in backing Justice4Grenfell: "The dynamics are quite similar in terms of their community and our community. In my ward of Princes Park, you've got pockets of deprivation and great areas of affluence, you've got similar architecture, diversity of communities and we know the same struggles.
Twitter: Adele Matthews
@CllrAnnaRothery gives her thoughts and opinions on why she continues to support the #justice4grenfell @JMUJournalism pic.twitter.com/WP2pxMD0gf

— Adele Matthews (@_adelematthews) November 14, 2018
"This month is more poignant than most months because of the effigy of the Grenfell fire that was burnt a couple of weeks back. It was sinister behavior, completely unacceptable and we're making a stand about that."
A minute's silence was observed by around 40 people on the steps of St Luke's this week, with all attendees at the 'Bombed Out Church' holding posters of those killed in the fire. Speeches from Cllr Rothery, Mr Lewis and various other participants were also made through a megaphone to raise awareness to passersby.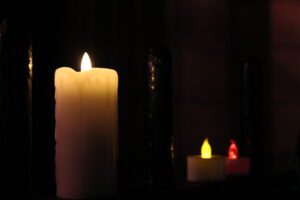 Secretary of Liverpool's Walton Constituency Labour party, Alan Gibbons, told JMU Journalism: "We saw innocent people burn because of consistent neglect. It's the poorest people who always suffer, but the people of Liverpool will always provide support and dignity."
Justice4Grenfell is a community-led coalition established to seek assistance and recognition for all the residents of the tower.
The campaign has an immediate focus on the survivors and their families to put in place a compassionate response to address their needs, including rehousing, financial support and replacement of official documents.
The next vigil in Liverpool will be held on December 14th at St Luke's, with people encouraged to bring candles.
Twitter: Adele Matthews
I'm at the Bombed Out Church where a poignant vigil is being held to support the victims of Grenfell. Supporters are holding signs of those killed in the fire. @JMUJournalism #liverpool #justice4grenfell pic.twitter.com/WsSDvGFVJV

— Adele Matthews (@_adelematthews) November 14, 2018