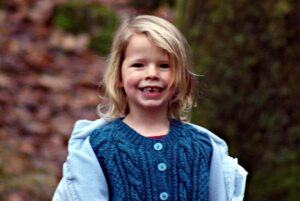 A girl from Liverpool has landed her first role in a film… aged just five.
Camille Byrne, from Childwall, will feature in 'Noble', the true story of Christina Noble, a woman from Ireland who saved the lives of thousands of children in Vietnam and Mongolia.
It is her first professional work as an actress, as she previously only featured in street performances for the MATE Community Theatre and a small role in a short film about gun crime called 'Tough Call'.
The film, which stars Irish stand-up comic Deirdre O'Kane as Noble, is due to be released in August 2013, and also has 'Game of Thrones' actor Liam Cunningham and Downton Abbey's 'Mr. Bates', Brendan Coyle among the cast.
Camille will feature in the first section of the film which details Noble's difficult upbringing in the slums of Dublin in the 1940s and she will play Philomena, Noble's younger sister.
The cast and crew have already filmed a later section of the film in Vietnam, and have returned to the UK to film scenes set in Ireland in the Lake District and Liverpool.
Camille, who attends Our Lady's Bishop Eton primary school, was chosen for the part by the director Stephen Bradley, who was introduced to her through her agency, Harmony Casting.
Her mum Jackie told JMU Journalism: "The director liked the look of her and wondered if she could do an Irish accent. I wasn't sure if she could so we practised and she could imitate one really well."
Camille was originally auditioning for a smaller part in the film, but the director was so impressed with her that he offered her the part of Philomena.
Mum Jackie added: "She takes it all in her stride; she acted really professionally for a five-year-old at an audition. It's the first time she's done anything at a professional level and she really enjoys it.
"I think it's a fairly big part, she's been requested [on location] at the Lake District for six days so she will feature quite a lot. She isn't nervous at all, she's really looking forward to it. She met another girl at the costume fittings so she is excited about making a new friend, and getting breakfast in bed at the hotel!"
Camille's mum Jackie, an actress herself, is proud of her daughter and added: "I'm glad she's enjoying it, people have been saying that now she'll be able to do it for a career, but we're going to take it one day at a time. My hopes are for her to be happy, so I'd be proud of her whatever she did as she's a fantastic little girl."