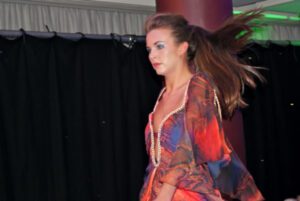 The opening night at The Hard Day's Night Hotel saw Hollyoaks star Jennifer Metcalfe present the show in a stunning glittery gold dress that matched the starry backdrop and catwalk. "I'm dead excited to be here," said Metcalfe, "and I hope you enjoy it as much as I'm going to."
The shows began with local models proudly showing off designs from various boutiques from the city as well as nationwide. Frockstar designs kicked off the night with risqué sheer designs that were paraded down the catwalk to the soundtrack of Shakira and Beyoncé.
The night continued with glitz and glamour dresses from Pastiche Couture as well as neon colours and lace detailing from Sve; all boutique designers embracing this local event to showcase their designs.
It wasn't all glittery dresses and gorgeous girls however. The catwalk also featured kids wear from Blu Kangaroo. Child models were met with applause from the crowd, including organiser Amanda Moss, whose children also featured.
A special honour was reserved for son Saxon who modelled despite sporting a broken wrist.
The night displayed Liverpool's proud nature, with Scousers of all ages turning out to support local talent. Tina Hewitt from Crosby said: "I'm here to watch my daughter Amy, who's just 17. I absolutely love nights like tonight and for me, I don't get the chance to go out that much so this is one of the highlights of my year. My younger daughter is gutted she can't be here to cheer our Amy on."
Fashion week continues until Saturday, where the closing night will take place in the Marriott Hotel. For tickets and more information go to www.liverpoolfashionweek.co.uk.
[nggallery id=21]