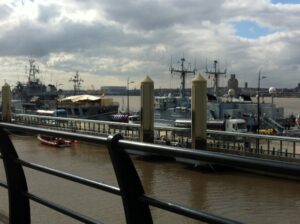 Liverpool welcomed the arrival of six NATO warships to its docks at the weekend.
The six ships, along with the HMS Echo, sailed into the cruise terminal at Princes Dock on Friday morning for a long weekend break, before they set sail again.
The multi-national force took a break on Merseyside ahead of an important training exercise taking place in Scotland.
A multi-national workforce of around 300 is aboard the vessels, and their brief visit to Liverpool took place during one of the city's busiest weekends coinciding with the Grand National at Aintree Racecourse.
The warships are under the watch of Commander Piotr Sikora of the Polish Navy.  Polish Naval Command ship, the 'Czernicki' and another Polish Vessel 'Czajka', 'Urk' from the Netherlands, 'Bellis' from Belgium, 'Weilheim' from Germany, and 'Hinnoey' from Norway make up the fleet.
The warships are part of a NATO Mine Countermeasures Group, whose operation is to find and destroy dormant but potentially lethal mines on the sea bed.
Angie Redhead, Cruise Terminal Manager, told JMU Journalism: "Liverpool is en route to where the ships will be sailing to for the training exercise. They needed a stopover place in somewhere they could have some rest and relaxation and decided that our city would be the place to do that."
She added: "Visits like this bring more profile to the city. It brings pride and prestige for Liverpool and its residents. This area of the docks is usually a ghost town but the visit of the NATO ships has brought footfall to an area which is usually very quiet. It has been great for our local hotels, cafes and bars as many people have come down to see the ships."
Despite not being part of the NATO Task Group, the Royal Navy ship, HMS Echo, will be making its own way to Scotland to join in the Joint Warrior exercise.
Before it sets sail, HMS Echo is to host a launch event for the Battle of the Atlantic 70th anniversary commemorations.