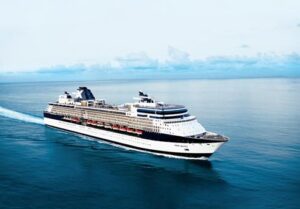 Liverpool is celebrating a record year for the amount of cruise ships to enter the city's terminal.
The 2016 season heralded many achievements with 63 cruise liners being welcomed into the city, which is nine more than the previous year.
Passenger Operations manager for Cruise Liverpool, Kate Green, told JMU Journalism: "It's fantastic, we've had a brilliant year. We had 60 cruise calls [with] over 108,000 passengers and crew and quite a few major events throughout the season.
"Liverpool was chosen as one of the two UK ports for Disney. They had never sailed into British waters before, so Liverpool was one of the two ports chosen and obviously we were really excited for that. We wanted to mark that occasion so we organised magic on the Mersey an event on the Pier Head. We expected about 30,000 but we got over 100,000 people on the waterfront in the end, which was incredible."
There have been a number of highlights in 2016, including the celebrations which marked the 100th anniversary of the Cunard Building. This celebration saw the Queen Elizabeth sail in to the city and the first Royal christening of a Mersey ship for 50 years.
Cruise Liverpool is also the proud owner of a hat-trick of awards, collecting the UK best port of call honour for the third time in three years.
A total of four different vessels have made an inaugural visit to Liverpool, one being the Disney Magic cruise ship and the others being L'Austral, Artania and Amadea.
Cruise Liverpool expects another four new maiden stops on the Mersey in 2017, while Disney Magic will also return on the July 14th.
Ms Green added: "We are actually celebrating our 10th anniversary next year as we opened in 2007 so Cunard's Queen Elizabeth will be visiting the city on the July 11th to mark that occasion."
To celebrate the success of the cruise season, Liverpool has created a three-and-a-half-minute film to celebrate its successes, which includes clips of all four inaugural visits and quotes from passengers.