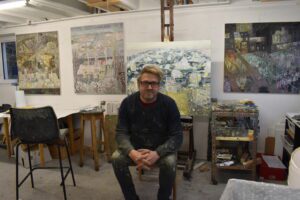 A Liverpool-born art artist has been shortlisted for the UK's biggest painting accolade, with a display at the Walker Art Gallery up for grabs.
Art lecturer Robbie Bushe, has been picked from 3000 entries to have a chance of winning the coveted John Moores Painting Prize.
The shortlist includes fellow artists Michele Fletcher, Steph Goodger, Stephen Lee and Kathryn Maple.
The chosen artist will win £25,000, a display at the prestigious Walker Art Gallery and join the esteemed list of winners from the past 63 years.
Mr Bushe, 56, submitted an oil and mixed media canvas titled 'The Neanderthal Futures Infirmary.' He said: "It's a large scale panoramic and dystopian exposition revealing and cutting away a complex warren of Victorian infirmary wards, labs and surgical theatres."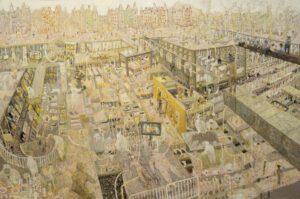 Mr Bushe first tried his luck with the competition in 1996 and travelled with his painting in a horsebox for it to be submitted. More recently, he has entered through digital submissions but, until now, has never got past the initial selection stage.
He said: "My partner had encouraged me to work on a bigger ambitious scale so I could enter. The process was fairly standard with each step getting a little more excited until here I am a prize winner. This year, I was slightly more confident I had a painting up to the task.
"If I was to win, I have a body of large paintings which I would love to show in a bigger space. I also make animations derived from my paintings and would like to develop this side of my practice so it runs alongside the paintings."
Another potential winner is Michele Fletcher's 'Compost' entry. Having been longlisted twice before this is her first time making the shortlist, a feeling she said is "unbelievable."
The 58-year-old, originally from Canada, described her work as "abstracted, expressionistic and based on the natural world."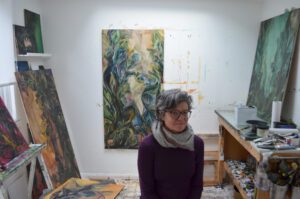 Michele drew inspiration from the steaming rot of the compost bin in her garden in Springtime.
She is currently organising a group show with a number of artists that will reflect on painting and solitude post lockdown.
Due to Covid restrictions, the 2020 jury judged and hand-selected all of the works online for the first time in history. High spec cameras, screens, speakers and AV software were provided to ensure the judges could appreciate the scale, texture and detail of the works in real-time. All judging remained anonymous to allow the artworks to speak from themselves.
A virtual tour of the exhibition is available to view at www.liverpoolmuseums.org.uk/jmpp until the gallery can reopen.
View this post on Instagram