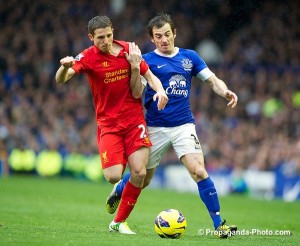 Liverpool head into this weekend's Merseyside derby at Goodison Park hoping to recreate the form they were showing prior to the international break.
Overall, the beginning phase of Liverpool's Premier League season has been an impressive one, and one in stark contrast to last season's dismal start.
It's been their best since the days of Rafa Benitez and it has left them in second place in the league, just two points behind leaders Arsenal – the only side the Reds have lost to in their last six outings.
In a season when all the usual big guns are dropping points, Liverpool have been consistent in beating the teams they're expected to beat, which hasn't always been the case in previous campaigns.
There have been dominant wins against teams at Anfield such as Fulham (4-0), West Brom (4-1) and Crystal Palace (3-1(, in which Liverpool's front two partnership of Luis Suarez and Daniel Sturridge have created a buzz of expectation. Then of course there was the 1-0 victory over Manchester United, which in any season is a high.
However, Liverpool appear very reliant on keeping their first choice 11 fit, especially in certain areas. The month or so Philipe Coutinho and Glen Johnson were out injured hit the team hard with the lack of ready-made replacements apparent.
The success of the summer signings has been mixed. Defenders Mamadou Sakho and Kolo Toure have impressed, Spanish striker Iago Aspas flattered to deceive before his injury, while loan signings Aly Cissokho and Victor Moses have been in and out of the side.
Manager Brendan Rodgers also seems to be still searching for the best way to get Liverpool playing with his team adopting various different systems throughout the season. The fluid possession-based game Rodgers was so keen of implementing at Liverpool when he took over at the start of last season seems to of taken a back seat.
The emphasis now appears to be all about getting the best out of the Liverpool's deadly strike force. This looks like it's working, as both Sturridge and Suarez are the league's joint top goal scorers. This is even more impressive for Suarez considering he missed the first five league games through suspension.
Liverpool's two league defeats to Southampton and Arsenal have also provided a reality-check for Reds fans, with the 2-0 loss at the Emirates emphasising the need to improve their all-round game against tougher opposition, without solely rely on their front two. They have the chance to put that right with trips to Tottenham, Chelsea and Man City all coming up next month.
For now, it's Everton on the immediate horizon and a win on Saturday at Goodison would turn a good start of the season into a great one, sending Liverpool to the top of  the table – at least temporarily.