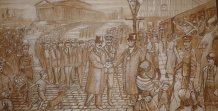 The Liverpool Pals Memorial Fund has successfully campaigned for a World War I memorial to be built in Liverpool.
The organisation, which was set up nearly three years ago, hopes to have a memorial built in the city centre by the 100th anniversary of thousands of men volunteering to leave the city to fight in The Great War.
Secretary of Liverpool Pals, Tony Wainwright said: "The unveiling of the Memorial will take place in Lime Street Station on 31 August 2014. The date, fittingly, is the Centenary of the first Pals signing up at St Georges Hall on 31 August 1914."
Liverpool Pals and the city council decided the best location for the memorial would be Lime Street to allow thousands who pass through the station every day to see it.
Thousands of men from Liverpool joined the 17th, 18th, 19th and 20th battalions of the British Army in 1914 and it is these men that the Liverpool Pals want to be remembered forever.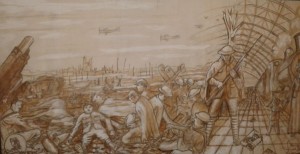 Wainwright said: "The fund is important because there is no public memorial to acknowledge the debt of gratitude the City of Liverpool owes to the Pals. Over 2,800 men gave their lives as Liverpool Pals in the First World War and it is long overdue that their memory is recognised."
The memorial has been drawn up by artist Tom Murphy, who has been commissioned for other memorials including for Noel Chavass, the army medical doctor who is one of only three people to have been awarded a Victoria Cross twice.
Wainwright, said: "The Memorial takes the form of two panels,  and tells the story of the Pals in four distinct scenes.  On the first panel the euphoria of their inception, to the farewells to loved ones. On the second, their battlefield experiences are depicted  and finally the subdued homecoming of the survivors."
The Liverpool Pals Memorial Fund is also going to play a role in this year's memories of August 1914 giant street spectacular. The charity hopes that the show will touch its audience and educate them about the sacrifices made by the men who fought for Britain.
Wainwright added: "We have been assisting Royal De Luxe with background information and helping them to understand the history of the Pals and in particular their formation in Liverpool in August 1914. We are more than happy to assist in any way we can to ensure the success of the Giants production."