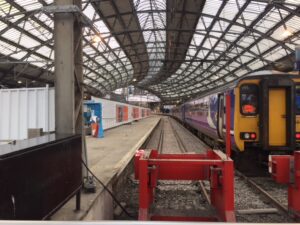 Liverpool Lime Street Station has reopened today following three weeks of major upgrades.
All services in and out of the station were closed this weekend as the finishing touches were put to the project started by Great North Rail.
As part of the work at Lime Street, there were over 2,000 metres of track replaced, walkways were redesigned and lengthened. Two new platforms, seven and eight, were also built.
Commuters will no doubt welcome the return of services, which are expected to be busier than normal with more people opting to use trains due to the Arriva bus strikes.
Liam Robinson, chair of MerseyTravel transport committee, told JMU Journalism: "It's very positive news that we're getting the significant work on Lime Street.
"The fact that there's going to be two new platforms put in will give us the ability to run a lot more trains in and out the station and give us lots of new connections that we haven't had for many years.
"It's tough that we have to close the station for three weeks while it's done but there isn't any practical other way of doing it. It's a bit of short-term pain for some longer-term gain."
Extended platforms at Lime Street will result in bigger trains being used, which in turn will allow more space and seats to carry more passengers.
YouTube: Train Plane Hub
Regular commuters might also notice that the Ken Dodd and Bessie Braddock statues have been taken away to receive a new coat of wax and polish.
Martin Frobisher, route managing director of Network Rail, said: "Millions of pounds are being invested in the railway in the Liverpool City Region which is vital to boost the local economy and transform train travel for passengers.
"This work brings us one step closer to fulfil our aim of running hundreds more trains each day – more trains with more seats, running more quickly and reliably across the north of England."
Work will continue at Lime Street until Summer 2018. There will be further work over the Christmas period this year, including the remodelling of platform six, as well as installation of overhead line equipment.