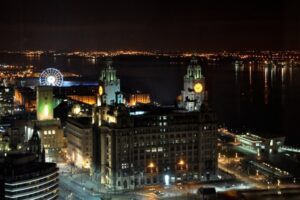 Iconic buildings across the North West turned their lights off last Friday night to raise awareness of the need for more foster carers in the region.
The lights were turned off for one minute at 8.30pm in buildings such as the Liver Building, Goodison Park Stadium, the Trafford Centre Dome and Blackpool Tower. The event was organised foster care service Child Action North West in an attempt to encourage people to foster children who need a home.
Turning off the lights in the iconic buildings represents the 1,200 children in need of foster homes in the North West. This is more than any other region in the UK and almost as many as Yorkshire, Humberside and the North East put together.
Nicola Waddilove, registered manager for Child Action Northwest, told JMU Journalism: "We're trying to focus on making people aware that they can be foster carers, especially in the run up to Christmas. It's all about giving a child a home in a time everyone spends with their family."
"Anyone can be a foster carer, all it takes is if you have a spare room and can take care of a child."
The light switch off was timed to coincide with the end of a fundraising concert at Blackburn Cathedral, which featured opera singer Sean Ruane and school choirs from across East Lancashire. The minute's darkness in the buildings began as the final note was sung at the concert.
By turning off the lights at the iconic North West locations, Child Action North West hope that people will start to think about the children who don't have the bright, welcoming light of a family in their lives. Making the lights temporarily disappear is meant to symbolise what is missing in the lives of children who need foster carers.
In total, more than 8,000 foster families are needed across the UK, and there is a particular need for carers who can foster teenagers, children with disabilities and groups of siblings.