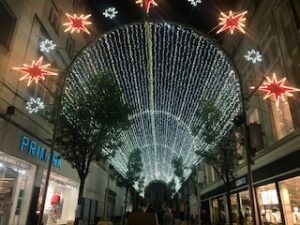 A dazzling display lit up the city centre this weekend as crowds gathered to witness the grand opening of the magical musical light tunnel.
The 50 metre-long tunnel, situated on Church Alley, added to the Christmas  spirit which has been ramped up in recent weeks.
The tunnel comes to life every hour between 4:30pm and 7:30pm, creating light patterns and playing Christmas favourites for all to sing and dance too.
The latest light installation, set up by Liverpool BID Company, is proving popular with shoppers.
Bill Addy, Chief Executive of Liverpool BID Company and chair of LVEN (Liverpool Visitor Economy Network) said: "As well as the traditional Christmas decorations that we have come to know and love, we are very excited for Liverpool Light Spectacular which has brought something really special and different to the city centre this year.
"It is certainly setting us apart from other towns and cities in the North West."
Twitter: Lydia Baggs
https://twitter.com/baggs_lydia/status/1196133155331280896
He highlighted the competition the festive period can bring, telling JMU Journalism: "Christmas is of course one of the most important trading times for our levy-paying businesses on the high street, and it is the BID's objective to boost visitor footfall and improve the experience in the city centre during the competitive festive period.
"We have to give shoppers more reasons to choose Liverpool for their Christmas outings. Working with our partners across the city, we are confident this year is going to be like no other."
Everyone seemed to be in the festive mood when the display launched this weekend, with shoppers stopping to enjoy it.
One lady seemed especially excited about the dazzling lights, as Sally Lou Whitworth from Warrington JMU Journalism: "You know that part in a film that makes you feel all warm and fuzzy inside?
"Walking up to the lights to see everyone had stopped and were smiling, looking up at the lights and dancing in time to the songs, well that was one of those moments."
The light tunnel will continue filling the city with Christmas cheer until January.
YouTube: Lydia Baggs