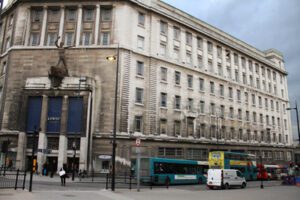 Lidl is to build a new major supermarket where the historic landmark Lewis's building stands.
The iconic building has been empty now for several years, and is now in line for a drastic change by the budget supermarket chain.
Lidl is going to refurbish the ground floor of the Lewis's building, aiming to create around 30 new jobs, and it is the latest firm following the trend for opening up big superstores in the city centre, along with Tesco and Morrisons.
The low-cost supermarket has been working with Merepark, the developer of the former Lewis's building, with a view to occupying a unit fronting on Ranelagh Street.
The building was opened in 1856 in Liverpool by entrepreneur David Lewis, and sold men's and boys' clothing. The shop eventually closed under the Lewis's name in 1991, when the company went into administration.
Georgina O'Donnell, PR Manager for Lidl, said: "We are very excited about the possibility of bringing our range of products to the heart of the city and being a partner in this hugely important regeneration of a building treasured by many."
The German company has recognised the importance of the listed building that is close to the hearts of many who have grown up knowing it well.
Ms O'Donnell added: "We have liaised extensively with the local planning authority, conservation officers and conservation specialists. We have also employed NJSR, an architectural practice well versed in the redevelopment of listed historic buildings, to develop the plans for the Lidl unit."
Lidl's aim is to bring the building back to its former glory with restoration work already beginning, including the repair and cleaning of the internal fluted stone clad columns, and the refurbishment of the original ceiling to the ground floor.
The PR manager added: "Our design is sensitive to the needs of the building, providing a carefully considered, bespoke solution for this unique setting and we hope to be welcoming the people of Liverpool back into this landmark building very soon."