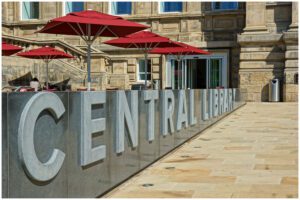 World-famous artist Frida Kahlo's first UK exhibition opened in Liverpool this week.
After its success in Paris, where it some 71,000 visitors, Liverpool's Central Library was selected as the venue to present the exhibition and workshop.
The exhibition allows families and young people to explore the artwork in an interactive way, but the Mexican artist's work will be available for the entire public to view until January next year.
Kahlo, who died in 1954, is regarded as one of the most important artists of the 20th century. Kahlo's life began and ended in Mexico City, in her home known as the Blue House. Her work has been celebrated in Mexico and by feminists for its uncompromising depiction of the female experience and form.
Liverpool's Assistant Mayor and Cabinet Member responsible for libraries, councillor Wendy Simon said: "I am delighted this exhibition is making its UK premiere in Central Library.
"It's so important to engage young people creatively, and this exhibition will be the perfect way to help them tap in to the artist within."
iVAMOS! Festival Director Nik Barrera said: "We are thrilled to bring this highly successful exhibition to Liverpool for its UK debut. Frida is one of the most famous Latin artists in the world and this exhibition will give people on Merseyside, and beyond, the opportunity to explore her life."