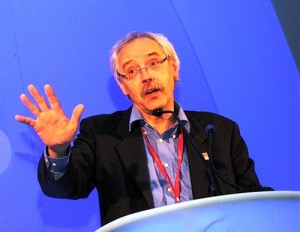 After hosting the Liberal Democrat spring conference in the city this weekend, the party's leader in Liverpool, Councillor Richard Kemp, has told JMU Journalism why he is feeling upbeat about the party's future.
Though they have lost ground both nationally and locally, with the Green Party overtaking them as Liverpool Council's official opposition in 2014, Cllr Kemp believes the conference has helped bolster the Liberal Democrats' image locally.
He said: "It's always hard to judge how they've gone, but it was nice to have it in Liverpool. It was great, there was a buzz even though people expected us to be full of doom and gloom. I really liked Nick Clegg's comment during his speech that cows moo, dogs bark and Tories cut."
He added: "We do get carried away sometimes but Michael Crick, the cynical investigative journalist, said that Nick Clegg's speech was the best leader speech for years."
After five years of coalition government and criticism that they have failed to resist Conservative policies, the pressure is on for the party to distance itself as the General Election approaches.
This was reflected in Clegg's numerous swipes at the Conservatives while speaking in Liverpool at the ACC Convention Centre, including his description of a "glint in George Osborne's eye as he announces that the working age poor will bear the brunt of the cuts".
Cllr Kemp explained: "We've been differentiating ourselves from the Tories. Some things we would have done anyway, such as increasing pensions, but some elements like the bedroom tax we wouldn't have done. There'll be no overall majority at the election, so we need to be clear, and have a clear list."
During the conference, Cllr Kemp told activists that an assembly should be set up to govern wider Merseyside, with one member for every 50,000 people. He stated: "We have the Westminster Government, dictated to by Tories, controlled by Tories, whether they are Labour Tories or Conservative doesn't matter – we get people making decisions about which we have no control."
He said: "There are a number of options for this. One is a mayoral model like London, but I don't think it works. There could be a regional mayor plus scrutiny bodies, but I think an assembly is the only way we could have a candidate for leader in a democratic sense."