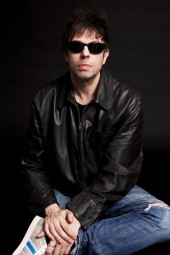 Two Liverpool music legends will headline a fundraising night in memory of the Bestival coach crash victims.
Former Echo and the Bunnymen frontman Ian McCulloch and Ian Broudie from 80s band The Lightning Seeds will lead the event at Liverpool's Cream club to raise money for families of Kerry Ogden, 23, from Maghull, and Michael Molloy, 18, from Woolton, who died when the coach travelling back from Bestival on the Isle of Wight crashed on the A3 in Surrey in September last year.
Money from the night will also go towards care needed for Zach Washington-Young, 22, who is one of many who faced life-changing injuries following the accident.
Dave Whelan, Juice FM DJ who will play on the night, met Michael Molloy the week before he died in the crash. He told JMU Journalism: "Michael was a talented guitarist, he seemed a really nice guy, he'll be sadly missed I'm sure.
"No amount of money will ever replace a son, daughter, brother or sister but hopefully putting on such a special event with a capacity crowd will bring some small comfort to the families, friends and loved ones.
"If me being involved adds some kind of spotlight to the event then, by all means, get me involved."
Other acts will include The Tea Street Band, the Cuban Brothers, Is Tropical, Killaflaw and Hoodie Ledbetter as well as a one-off screening of one of the best concert films from recent years, The Chemical Brothers' Don't Think.
On the decks will be Bestival organiser and BBC Radio One DJ Rob Da Bank as well as Juice FM DJ Chris McGee – who was injured in the crash and considers himself one of the lucky ones. Other Liverpool DJs gracing the stage will include Steve Parry, Dave Whelan, Phil Fearon and James Silk, plus an unknown special guest  described by organisers as "someone who is synonymous with rocking the dancefloor over the past 20 years".
The event will take place on March 30th. Tickets are available for £16.25 from www.ticketline.co.uk