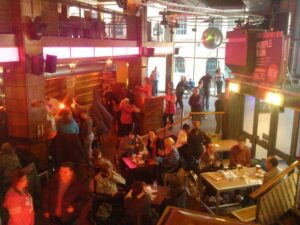 Pub chain Wetherspoons has announced it is closing the doors to a popular disco event for people with learning difficulties, leaving hundreds upset and confused.
Lloyds bar located on Concert Square played host to ACE (Active Community Enterprise) disco held every Tuesday afternoon for eight years. ACE works across Merseyside providing work, support, training, paid employment, qualifications and voluntary work to people with learning disabilities.
Supporters have since protested about the decision, which has devastated part of the community.
Darren Guy, Business Development Manager at Active Community Enterprise (ACE), told JMU Journalism: "Well, it wasn't closed for financial reasons… we could understand that if it was. Lloyds bar management had already told us our daytime events on Tuesdays were the most financially lucrative of anything else they had on in the day.
"They told us it 'was a change of emphasis' – we are not really sure what this means. Our clients, who many have faced a lifetime of exclusion, understand it to mean Lloyds Bar don't want them to go there anymore."
The disco night saw a number of people with learning difficulties attend with friends, carers, parents and support workers, where they would meet with friends.
Wetherspoon spokesman Eddie Gershon said: "We have been hosting the disco event at The Lime Kiln (Lloyds) for the past eight years or so and can confirm that we have given notice to the group, with the last event planned for March 10.
"In recent months, we have had to turn customers away on a Tuesday, as there has not been enough room to accommodate them, due in part to a section of the pub being used for the disco. As a result, we feel that we are no longer able to accommodate the group, in our aim to cater for all of our customers."
Clients of ACE would also take on job roles at the event by washing dishes, clearing up tables, glass collecting and sometimes do the DJ'ing at the disco. Any profits made on the door were paid to them in wages.
Mr Guy added: "Many of the people we work with grew up in care homes, or grew up isolated with their parents and carers away from mainstream society – They should be part of that.
"The issue at the moment is that many are not, though I know organisations like ACE and others are trying to challenge that.
"We created a space in Lloyds bar so they can feel safe to be themselves without worry or fear. ACE create, what I believe, to be a real genuine exciting vibe because we believe in putting the people we support at the centre of everything."