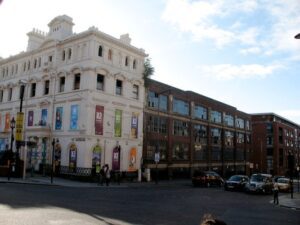 Liverpool's landmark Scandinavian Hotel could be turned into student flats.
The former hotel, located at the junction of Duke Street and Berry Street in Liverpool's Chinatown, was set to be re-opened but plans have been scrapped in favour of student accommodation.
Developers Downing have submitted plans to accommodate more than 240 students, mixing studio apartments and self-contained rooms.
But opponents to the plans are concerned the development will create too much noise, with 51 locals signing a petition in a bid to stop it.
The bid from Downing,  a Liverpool-based company, comes after the collapse of another business bid to open a Marriott hotel at the Chinatown site.
The new scheme will also open up a lost link to Cummings Street so connecting Chinatown to the East Village complex, the wider Ropewalks area and Liverpool One.
Paul Houghton, development director at Downing, said: "As one of the UK's most experienced developers of student housing, with projects in Liverpool, Leeds, Newcastle, London and Cambridge, we are looking forward using our knowledge and expertise to bring forward another high quality student scheme, with 241 bedrooms and ground floor retail."
Downing is hoping to capitalise on the growing number of Chinese students choosing to study in Liverpool and is hoping the building location will give more appeal.
An outcome of the planning submission is expected this month (April).