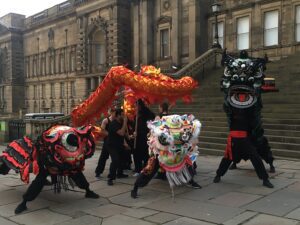 Liverpool is about to develop a taste for the cultural delights of China, with the Terracotta Warriors coming to the city and the Chinese New Year just around the corner.
To herald the imminent arrival of the display of the figures at the World Museum next month, and to mark 10 years since Liverpool's European Capital of Culture year, a local martial arts group brought their skills out onto the streets at the weekend.
People gathered to watch on Sunday as a group of students from the Liverpool School of Cantonese Kung Fu (sockFU) presented a traditional classical Dragon Dance outside the World Museum, using colourful costumes and props.
Their performance was practice for the Terracotta Warriors launch event which will take place on February 9th.
Liverpool sockFU is a popular school teaching kung fu to all ages. Led by Mark Jacob, the classes offer a combination of other martial arts forms, as well as lighter activities such as yoga, tai chi and pilates.
The students have to display dedication to build the perfect routine and defence in kung fu.
Kim Liu, a student at the school, told JMU Journalism: "This takes years of practice. We normally get together this time of the year annually to practise the Chinese line dance, which is an expression of kung fu, but we take part in a number of events throughout the year.
"Growing up Chinese, this is very much part of our culture. I think it's really important to keep this tradition going."
The Terracotta Warriors exhibition will run from February 9th until October 28th this year.
YouTube: Anisah Arif