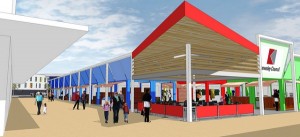 Kirkby residents have waited almost two years for the supermarket giants to begin construction work on a new Tesco store and housing developments across the town.
The project, which is set to begin next week, has promised to make Kirkby a "go-to" destination for shoppers in the Merseyside area and will include a £2.5m market funded by the council and a new health centre which is almost complete.
The regeneration also promises 300 new jobs along with 72 new homes which have not yet been built.
Locals feared that the plans would not take shape but Tesco have confirmed that contractors are set to begin work before  the end of the month on the site of the former Golden Eagle Hotel.
A spokesperson for the company confirmed that the project is still on track and construction will begin on the new housing development intended for the residents who currently live on Cherryfield Drive.
Councillor Stuart Arrowsmith told JMU Journalism: "On the Tesco/housing side, there has been a huge amount of work going on but this has really been behind the scenes so far.
"On a programme of this scale there is a massive amount of legal and technical work taking place before construction can begin.  Also, it is important to understand that some aspects of the programme can't take place before others have been completed; for example, work on the Tesco store can't begin until the houses on Cherryfield Drive have been demolished."
Campaigners have protested against the delay to regenerate the area, demanding answers from Tesco and Knowsley Council.
Councillor David Lonergan told JMU Journalism: "I'm delighted that we have taken this significant step forward and done so in a way which is in the best interests of the residents affected. If we had rushed this part of the process, as some may think we should have done, we would not have been able to secure the best possible deals for residents."