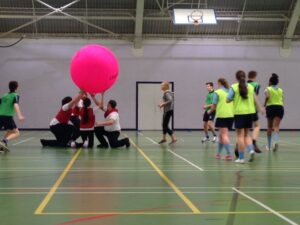 School pupils showed their prowess with a brand new sport in the UK, as John Moores University hosted a mini-tournament on Friday.
Local schools in Merseyside took part in Kin-ball; a new sport which could be part of core PE lessons in the near future.
The unique sport consists of three teams playing at the same time with the objective to keep the giant ball off the ground. It was developed at a rock concert in Canada, and is an inclusive activity that can engage many different participants.
The tournament, which took place in the IM Marsh Campus in Aigburth, involved schools from across Liverpool, including Formby High School, Childwall, Parklands, St Julies, Broughton Hall, Auckland College, St Chad's and St Edward's.
The tournament was a success, with the schools' teachers and pupils thoroughly enjoying taking part.
Amy McGowan, in Year 11 at Formby High School, told JMU Journalism: "I think the tournament was really good because we got to meet people from other schools that also play this sport. It's all about your teamwork skills, so you're co-operating and learning how important it is that you need to listen to each other and be aware of who's around you."
JMU students helped make the tournament possible, along with Steve Grace, Sport Programme Manager at Marsh Sports, who is trying to promote the sport in order for it to be part of core PE lessons in Merseyside and further afield.
Talking to JMU Journalism about what schools and children can learn from Kin-ball, Steve said: "Teamwork and co-operation are the big learning points. It also helps with decision-making and builds confidence, because the people who don't like to talk and shout during sport games, by the end of this game that's gone out the window.
"The ability to take turns, so that nobody can dominate the sport, so everybody has got to play to the exact same standard, means it's completely fair play."
Kate Park, a PE Teacher at Broughton Hall, told JMU Journalism: "I think introducing it into the curriculum is the next step, because those taking part are really enjoying it, so getting it onto the curriculum for all the students to have ago at and enjoy is key. Then, there can be more events like this, plus competitions and festivals for everyone to take part in."
Mr Grace added: "I've done four PE lessons on Kin-ball at St Chad's, and the teacher came up to me during one of the lessons, and said 'do you see that girl there running around taking part? I've been teaching here for two years and she has never taken part in a PE lesson'."
Steve is hoping to make the tournament an annual event, with different schools taking part each year.