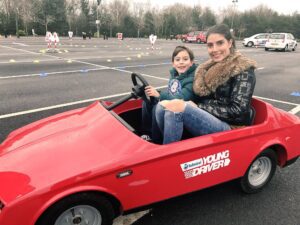 Local racecourses are making little boys and girls dreams come true by offering exclusive driving lessons for kids as young as five.
Firefly, a programme set up by Young Driver, gives youngsters the chance to drive their own car around a range of obstacle courses. The lessons are tailored to the child's age and are held at completely safe off-road environments.
The cars feature an independent suspension, disc brakes, twin electric motors, rack and pinion steering, indicators and head lights – making them drive and handle just like real cars on the road. They also have a tablet-based dashboard which feature an electronic speedo, clock and power status dial.
With a top speed of 10 mph, each car features an innovative and patented safety system that uses special sensors to detect obstacles ahead and bring the car to a halt, avoiding collision. Parents can also use a remote control cut-off switch in case of emergency.
Aintree and Haydock Park Racecourses are two of the venues where the lessons are held, along with the Queensferry Makro in Chester.
YouTube: Young Driver
Rachel Wassall, Marketing Manager of Young Driver, told JMU Journalism: "We have been delivering lessons since 2009 and it's got even bigger as the years have gone on. The venue at Aintree has already been very popular and has a great area for driving. We've got over 45 venues and are looking to open seven new venues this year.
"The lessons give youngsters an opportunity to learn about road safety and take on board important safety messages about driving before they drive on the road."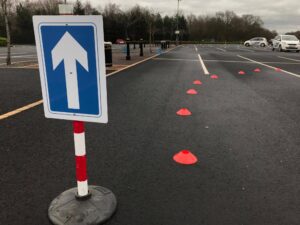 Research shows that it is a lack of driving experience – not a lack of years on the planet – that causes one in five newly-qualified motorists to crash within six months of passing their test.
So far, Young Driver has provided over 400,000 lessons, making it the biggest under 17's driving school in the UK. Although you can't get a driving licence until you are 17, the company believes it's a great opportunity for junior drivers to have fun while learning skills before stepping into the real world.
Lessons for kids start from £19.95 for a 20-minute experience, which includes a five-minute demonstration and a 15-minute drive. Lessons for 10-17 year olds start at £34.95.